Formaper is the training Agency of the Milano-Monza-Brianza-Lodi Chamber of Commerce, Industry, Craft and Agriculture and brings an in-house competence arising from the training demand of the 425.000 enterprises registered within these CCIs.
The aim of the agency is to contribute to the development of an entrepreneurial culture building on specific know-how acquired in the most dynamic and vital of Italian regions. Consequently, Formaper focuses on the delivery of tailored training and support services in the fields of entrepreneurship and SME development, employment integration, regional and sustainable development, and economic and social empowerment.
Today, the Formaper activities targeting migrants entrepreneurs include EU- funded projects, such as
"Behind the threshold. Improving migrants integration through economic and financial skills and knowledge"- funded by the European Integration Fund, 2012 -2013;
"EntryWay – Entrepreneurship Without Borders"- funded by the European Commission (DG Growth), 2017 -2019;
"Migrant Entrepreneurship Growth Agenda" – MEGA – Funded by COSME, 2017 -2020(migrant entrepreneurship network);
Erias project – AMIF – Funded by the European Commission (DG Home) (labour market integration), 2019-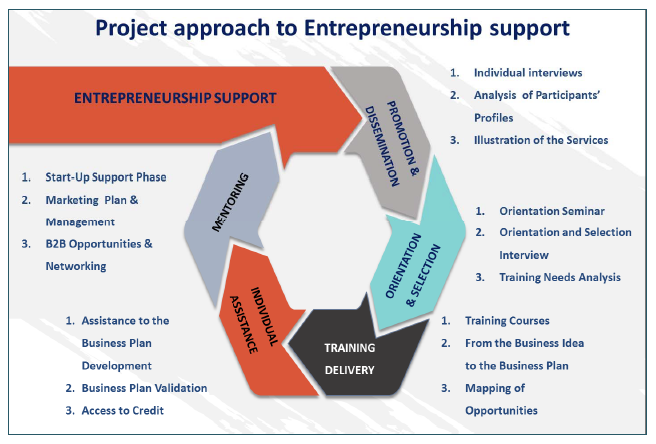 Through EntryWay- Entrepreneurship Without Borders, FORMAPER leads a consortium of organisations from Italy (FORMAPER, IFOA), German (Unternehmer ohne Grenzen), Spain (Camara Navarra), Greece (KEPA) and Sweden (Insamlingsstiftelsen Ifs Radgivningscentrum) to provide qualified and target assistance to migrant would-be entrepreneurs, thus contributing to their economic, social and cultural integration and empowerment.
In particular, the project aims to deliver and upscale comprehensive entrepreneurship support schemes for effectively orientating, training and assisting migrant would-be entrepreneurs living in selected areas of Greece, Italy, Sweden, Spain and Germany, in starting and strengthening their businesses and social businesses, at local and transnational levels. It does so through 3 phases:
Phase 1: Identification, selection and orientation of the migrant would-be entrepreneurs;
Phase 2: Delivery of entrepreneurship training and technical assistance. Development of the business plan;
Phase 3: On-the-job mentoring schemes provided by experienced entrepreneurs or business consultants.
In parallel to this, FORMAPER is also a partner in one of EMEN's sister projects- Migrant Entrepreneurship Support Schemes- MEGA; where it represents Milan, Monza and Lodi provinces. Within MEGA, the objective is to encourage cities, regions and national partners to initiate sustainable national coalitions to set the agenda for more local migrant entrepreneurship support. MEGA identifies national and regional opportunities and obstacles that need to be addressed in terms of policies, funding and partnership and promotes peer learning and knowledge transfer. This will enable cities and local actors to offer the best support for migrant entrepreneurs.
As part of these activities, FORMAPER leads the national collation building process in Italy to promote migrant entrepreneurship transversally by bringing together all relevant stakeholders encompassing the social, economic, and employers' organisation; with its first conference taking place in May 2018. The event brought together 95 participants and 9 panellists for discussions on the reality of entrepreneurship and working group on the needs of would‐be entrepreneurs emerge for entrepreneurship and access to credit; as well as desk to present the services offered by the organisations and associations present in order to mutually share experiences.
From the start of 2019, a network of Chambers of Commerce from Italy, Greece, Spain and Bulgarian, as well as EUROCHAMBRES- the Association of European Chambers of Commerce and Industry, are led by Formaper in the implementation of the "European Refugees Integration Action Scheme"- ERIAS. Over the space of 2 years (2019-2021), this Chamber-led consortium will focus on the economic integration of refugees through a 3-step approach: 1) Identification of Skills; 2) Training; 3) Allocation. In this process, refugees will not only be supported in the labour integration but also in starting their own enterprises by bringing together experienced and new migrant/refugee entrepreneurs.
FORMAPER started since 2005 to target migrant entrepreneurship in its activities, starting with the set-up, institutional framework development, operationalization and implementation of ASIIM – Association for Migrant Entrepreneurship (2005-2011), which Formaper coordinated in Milan. The services provided by the Association consisted in Managing of Information Desks for immigrant entrepreneurship where would-be entrepreneurs could obtain information on laws and regulations regarding self-employment and the setup of a new business, juridical form of enterprises, existing financing projects supporting entrepreneurship, courses and seminars for would be entrepreneurs and immigrant entrepreneurs,  and surveys on migrant entrepreneurship.
ASIIM aimed to create an easier coordination of all institutions and associations already working on Milan's area in order to foster self-employment and entrepreneurship among foreigners; urging public and private institutions, banks and enterprises to arrange specific services and take actions for new businesses; supporting the growth and strengthening of foreigners-owned businesses starting from their setup.
Across the 9 partners in the project, each partner contributed with information and orientation, as well as training courses based on their own specificity.
The main Components of training delivery were:  Info & orientation, language training, technical/vocational courses, how to be self-employed and support entrepreneurship, management courses.
Formaper coordinated the partners involved and provided free initial support through a dedicated desk. 10 migrants entrepreneurs organisations were also involved in a consultative role on the choice of courses to be offered.
The network was a good practice among key stakeholders at municipal level to support migrant entrepreneurship and competences development. Over the 5 years of implementation of the ASIIM desk, 2644 contacts were established and 130 courses were delivered, involving over 1500 participants.
With the termination of ASIIM, services became mainstreamed and channelled through other institutional services (Start up – Desk) and EU-funded, project-based support services at Formaper.
Through Start-up Support Desk, start-ups initiatives were targeted at a wide-range of the population, of which a substantial percentage (10%-15%) included people with migration background as far as desk services (free of charge) are concerned.
Furthermore, in 2012, the "Start it up – new enterprises set up by migrants" project, financed by the Chamber of Commerce, began.
Formaper is also a member of the Communities of Practice (COP)3 of the EMEN project, where it is interested in sharing knowledge and experience with other organisations and Chambers of Commerce on how to support migrant entrepreneurs.
Carrying on from its already extensive involvement in the sphere of migrant entrepreneurship support, Formaper will continue to leverage further activities and initiatives on EU funds availability, both via regional funding and direct EU funding. It will also strengthen the Network of organisations with an interest (i.e. mentoring on access to privileged credit) and will enlarge the spectrum of provided services with more attention to employment (training of soft competences, matching demand & offer, organising job days).
For any further contact
Carlos Talamas  carlos.talamas@mi.camcom.it
www.formaper.it